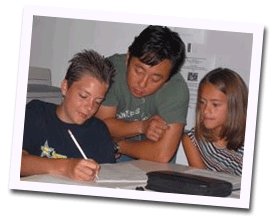 The Mission of Playwrights Project is to advance literacy, creativity, and communication by empowering individuals to voice their stories through playwriting programs and theatre productions.
Playwrights Project is a nonprofit organization devoted to arts education. Founded in 1985, Playwrights Project reaches up to 10,000 people annually through programs proven to:
Teach the power of spoken and written language
Nurture promising young writers
Develop theatre artists and audiences
Champion thoughtful communication
Encourage creative problem solving
Inspire lifelong learning
Cultivate empathy
Honor wisdom and past experience
Deepen a sense of belonging
Strengthen connections between and within communities
Playwrights Project accomplishes these goals by providing playwriting workshops in schools and underserved communities, producing community readings, conducting the annual California Young Playwrights Contest for writers under the age of 19, and professionally producing winning scripts in its annual festival of Plays by Young Writers.
Collaboration
Playwrights Project collaborates with many organizations in San Diego County. We have created major programs with Anaheim Union High School District; Escondido Union High School District; San Diego City Library; San Diego Unified School District; San Diego County Department of Health and Human Services; San Diego Youth and Community Services; and Sweetwater Union School District.
Board of Directors

David A. Carr
President

Marianne Generales
Vice President

Holly Smith Jones
Treasurer

Latanya West
Secretary

Mary Baum
Jerry Buckley
Vanoli Chander
Courtney Flanagan
Ann Hornby, MD
Lisa Kirazian
Kathy Krevat
Ishita Saxena-Dayal
Alison Whitelaw

Emeritus
Karen Ladner
Sheila Lipinsky
Ernie McCray
Craig Noel (1915-2010)



Founder Deborah Salzer with Artistic Advisor Edward Albee, 1985

"We have to begin the creative education of young people very, very young, far younger than most people think and that's why an organization such as this one is so terribly important."
~Edward Albee
Staff
Cecelia Kouma
Executive Director
Emily Fleet
Managing Director
Ruff Yeager
Festival Artistic Director
Suzanne Whitman
School Programs Manager
Thelma de Castro
Program Coord., Community
Nicole Hernandez
Administrative Assistant
Rachael VanWormer
Contest Coordinator

Consultants
Deborah Salzer
Founder
Edward Albee
Artistic Advisor Emeritus
Dr. Barbara Broderick
Fundraising Consultant
Dr. Alexander Chizhik
Evaluation Consultant
Teaching Artists
Leigh Akin
Aurrora Arnold
Aleta Barthell
Kira Blaskovich
Chris Boyd
Thelma de Castro
Courtney Flanagan
Gerardo Flores
Julia Giolzetti
Cory Hammond
Nicole Hernandez
Cecelia Kouma
Jenny Lane


Brian Mackey
Ben Natkin
Steven Oberman
Jessica Ordon
Wilfred Paloma
Albert Park
Erika Phillips
James Pillar
Moe Reynoso
Tori Rice
Deborah Salzer
Lynnia Shanley
Rachael VanWormer
Wendy Waddell

Bios
Edward Albee (1928-2016), Artistic Advisor, was one of the greatest American playwrights. Among his 32 plays are The Zoo Story, A Delicate Balance and the groundbreaking Who's Afraid of Virginia Woolf, almost always in production somewhere in the world. His numerous awards include three Pulitzer Prizes, a Special Tony Award for Lifetime Achievement, the Kennedy Center Honors, and the National Medal of Arts.
Deborah Salzer, Founder, is a graduate of Oberlin College and the Bank Street College of Education. Before moving to California from New York, Ms. Salzer taught elementary school, trained teachers, and directed an inner-city arts program in Harlem. Ms. Salzer founded Playwrights Project in 1985. In addition to creating curriculum and training teaching artists for Playwrights Project, Ms. Salzer has produced the premieres of over 100 plays, along with the award-winning television production of Simply Maria, or the American Dream by Josefina López. Ms. Salzer is the author of Stage Write a curriculum unit which introduces playwriting to middle and high school students.
Cecelia Kouma, Executive Director, has a BFA in Theatre Arts, from the University of California at Santa Barbara. She was hired as Playwrights Project's Managing Director in 2000, to direct education programs and oversee the general operation of Playwrights Project. Ms. Kouma now serves as Playwrights Project's Executive Director, after working with the Founder and Board of Directors to prepare the organization for the Founder's transition from leadership in 2007. Ms. Kouma has worked as an arts administrator since 1987, including 11 years as the Associate Director of the Armory Center for the Arts in Pasadena. She has taught theatre and playwriting to students and teachers in San Diego and Los Angeles Counties and has presented at conferences on the topics of arts education strategies, evaluation techniques, and nonprofit management.