Plot Line Newsletter - Backstage Diaries Blog - Donor Corner - Videos of Playwrights Project in Action
Plot Line Newsletter
See what's new with Playwrights Project!
Latest Plot Line
---
Backstage Diaries Blog
Hear the latest news from Playwrights Project.
Read interviews with our playwrights, actors, directors and more!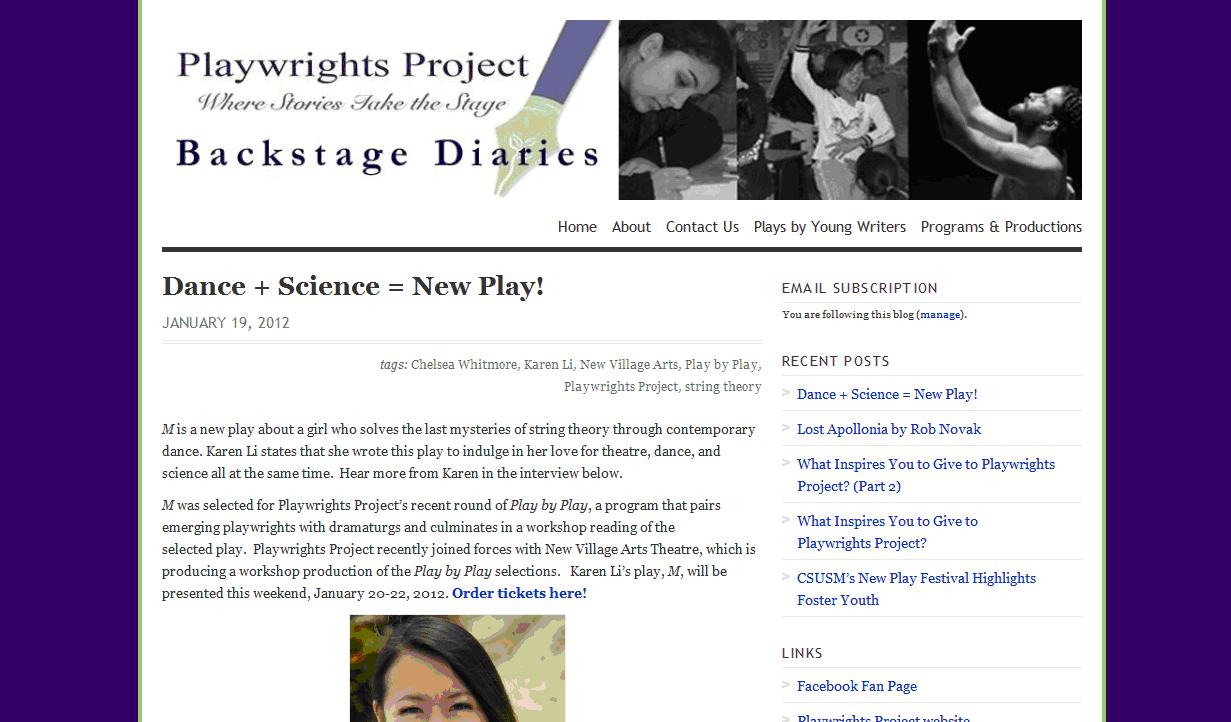 ---
Donor Corner
We appreciate the support of each and every one of our donors. Visit our Donor Corner for a listing of the phenomenal individuals and organizations who make our programs possible. Read the latest news about our current funding successes!
---
Videos of Playwrights Project in Action
Fox 5: "Drama program helps inmates find freedom behind bars." Out of the Yard Playwriting Program at Richard J. Donovan Correctional Facility
Showcase of Playwrights Project's work at Juvenile Court and Community Schools, 2014. Many thanks to the San Diego County Office of Education for creating this video and Carlos Solorio for his footage of the Plays by Young Writers Festival.
San Diego County News Center: A Broken Promise - Kimberly Bell Interview: An interview with playwright Kimberly Bell, interspersed with footage of her play A Broken Promise in its premiere production in Plays by Young Writers at the Lyceum Theatre. Also includes an interview of Derek Livingston. (San Diego County News Center. Suzanne Bartole. February 28, 2013.)
NBC 7: Woman Leaves Juvenile Hall and Becomes Playwright: Kimberly Bell interview with Elena Gomez outside of Juvenile Hall. Includes pre-production photos, no photos or footage of play. (NBC 7. Elena Gomez. February 1, 2013.)
KPBS: Radio Interview of Kimberly Bell by Angela Carone: From Juvenile Hall to the Stage: A Young Playwright's Journey. Includes original music composed for the production using phrases from Kimberly's poem in the play. (KPBS. Angela Carone. February 2, 2013.)
Telling Stories: Giving Voice to Foster Youth is discussed by alumni of foster youth Adam Rajah Gainey and Constance English, along with social worker Vina Sandal and teaching artist Mabelle Reynoso. This video was produced by San Diego Media Art Center, thanks to support from The San Diego Foundation and The James Irvine Foundation.
NBC News coverage of our April 2011 production of Switch, written by Lisa Kirazian for our Telling Stories program. Includes interviews of the playwright and actor Olivia Espinosa, along with excerpts of actors presenting the play at The Lyceum Theatre.
Our Artist in Schools Program 2009-2010 at Keiller Leadership Academy is the focus of this video created by Michael Thomas Tower and Jason Connors. This program is made possible by the California Arts Council, the Sidney E. Frank Foundation and an Anonymous donor.
Got Reality is a video created by Mark Weaver of Deep Storyworks. Thanks to program participant Martin Johnson and teaching artist Mabelle Reynoso of Fighting 517 Productions for program footage.
Telling Stories (part 1) and Telling Stories (part 2) provide a look into our Telling Stories program for foster youth and the lives of four brave young women from LEAP - Leadership Empowers All Possibilities. Program funded by The San Diego Foundation and The James Irvine Foundation. Video created by Mabelle Reynoso.
Programs 2008-2009 includes samples of Jan 2009 Plays by Young Writers festival, WINS touring production, and photographs of our teaching artists in the classroom.
Programs 2007-2008 includes samples of our Jan. 2008 festival of Plays by Young Writers, along with footage of our tour and in-school reisdencies. Many thanks to CTN and Joe Solazzo for the footage of Step by Step and interview with James Monroe.