Greetings!
This past Saturday night, playwrights took the stage at Lights Up!, as we announced the winners of our California Young Playwrights Contest. Congratulations to the winning playwrights and finalists, and thank you to Lisa Kirazian and Kathy Krevat for your words of encouragement and wisdom at the Lights Up! celebration. We are proud to present the winning scripts that will premiere in our 30th Season:
Winning scripts will premiere in the
30th Season of
Plays by Young Writers
The Sheryl and Harvey White Theatre
in the Conrad Prebys Theatre Center at The Old Globe
January 22 - February 1, 2015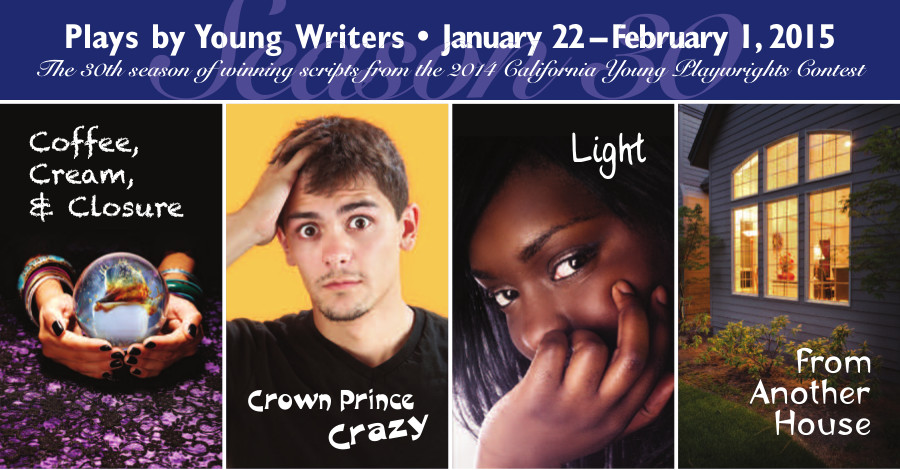 Full Productions
Coffee, Cream, & Closure
Matthew Maceda, age 15, Torrey Highlands
Meeting a medium in a coffee shop leads to a miracle for Felicia.
Crown Prince Crazy
Alberto Cordova, age 18, Escondido
Mexico or USA? Family or alone? Boy or man? Decide now!?
Light
Ke'Ona, age 17, Escondido
Danielle must shine a light on the truth to find her self-worth.
From Another House
Eliana Pipes, age 17, Altadena
Lena's first meeting with her father and his family sparks a discovery.
Staged Readings
Best Friend Mistakes
Donya Sharifi, age 12, Rancho Peñasquitos
Harry missed his best friend's birthday party. Dude! Not cool.

One Magical Day
Tricia Mendoza, age 14, Rancho Peñasquitos
A fairy godmother, a mysterious woman, and a magical potion.

With Your Own Eyes
Sol Manuel Garza, age 14, San Marcos
Is an uncle's love stronger than cords plugging Trey into the grid?

She Remembers
Jerusha Israel, age 13, Rancho Peñasquitos
Two octogenarians fight for memory and to be remembered.
Opening Night -- January 24, 2015
Features the four full productions and includes a post-performance reception. Proceeds help support Playwrights Project.

Public Performances -- Jan. 30 – Feb. 1, 2015
Features two staged readings and two full productions.
For information about weekday matinees for school groups,
call (858) 384-2970 or email write@playwrightsproject.org.
Tickets are on sale now - buy early and save!
Use code EARLYBIRD when purchasing online or by phone
to receive $20 tickets (regular price $25),
and $50 Opening Night tickets (regular price $60).
Offer ends November 30th.
Tickets, full schedule, and more information:
www.playwrightsproject.org/PBYW
(858) 384-2970