The festival is divided into Program A (for ages 11+) and Program B (for ages 16+), and each program includes two staged readings and two full productions. Two acting ensembles will present the programs, with actors playing multiple roles. We are pleased to announce the ensemble casts for the 30th annual festival:
PROGRAM A
Directors
George Yť (full productions)
Erika Phillips (staged readings)

Cast
Francisco Brambila, Veronica Burgess, Zion Dyson, Eduardo Garcia, Virginia Gregg, Kimberly King, Dylan Nalbandian, Miguel Padilla, John Polak, Arnica Skulstad Brown, Reed Willard
PROGRAM B
Directors
Rosina Reynolds (full productions)
Derek C. Livingston (staged readings)

Cast
Marshall Anderson, Whitney Brianna Thomas, Kimberly King, Aliyah Malcom, Eric Poppick, Saverina Scopelleti, Alexandra Slade, John Tessmer, Aaron Winey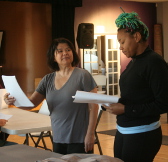 Saverina Scopelleti and Whitney Brianna Thomas in rehearsal for From Another House by Eliana Pipes.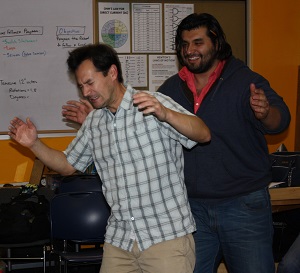 Director George Ye and actor Miguel Padilla in rehearsal for Crown Prince Crazy by Alberto Cordova.