Greetings!

Here's what's featured in this edition of Plot Line:

For the past four years, our Production Program Manager, Derek Charles Livingston, has contributed his well-honed theatre expertise, tremendous aplomb, and upbeat personality as he has overseen our California Young Playwrights Contest (combing through hundreds of scripts each year), produced our past four Plays by Young Writers Festivals, and spearheaded our programs for adult playwrights. Derek will be leaving Playwrights Project to take a new position as Managing Director of Big Apple Performing Arts in New York City. BAPA is the umbrella non-profit for the NYC Gay Men's Chorus and the Youth Pride Chorus. He will be leading the organization as it expands over the next couple years into a multidisciplinary performing arts organization. While those of us at Playwrights Project and across the San Diego theatre scene will deeply miss Derek's dynamic personality, we are excited for this new opportunity and wish him all the best!

Lizzie Silverman, our Office Manager extraordinaire, will also be leaving Playwrights Project's staff. Lizzie is embarking on a new adventure as the webmaster and administrative assistant at a nonprofit that advocates for and provides benefits to retirees of San Diego County. Her amazing talents will be put to great use and we will miss her at Playwrights Project. Fortunately, Lizzie will remain in San Diego, where she is an active member of the theatre community. Keep an eye out for Lizzie's plays on San Diego stages! She will also be joining us for our 30th Anniversary in October. We are deeply appreciative of Lizzie's talents and incredible work over the past two years!








Playwrights Project is delighted to welcome three new members to our team! From left to right: Thelma de Castro, Community Programs Coordinator; Emily Fleet, Office Manager; Ed Delos Reyes, Performance Programming Coordinator and Producer of the Plays by Young Writers Festival.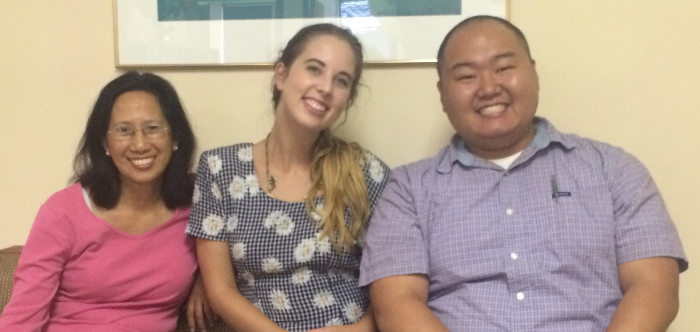 Lights Up! Playwrights Take the Stage
September 19, 2015 at 5:30pm
The Old Globe's Hattox Hall

Come meet our newest playwrights! The winners of our annual California Young Playwrights Contest will be announced at The Old Globe in Balboa Park.

Winning playwrights will see their scripts produced in the 31st Season of Plays by Young Writers, January 2016 in The Old Globe's Sheryl and Harvey White Theatre.

On September 19, join us in Hattox Hall (above The White Theatre) to learn about the plays and hear from the contest winners. Light refreshments will be served. Admission is free, with a suggested donation of $10/person.

RSVP to secure your seat, by emailing write@playwrightsproject.org or call (858) 384-2970.

October 10, 2015, 6:30 PM
Joan B. Kroc Institute for Peace and Justice, USD
Playwrights Project is hosting an evening of captivating original theatre to celebrate our 30th anniversary!
Join us!

Wine • Hors d'oeuvres • Dinner
Live & Silent Auctions • Unique Live Entertainment

Honoring long-time supporters:
Sheila & Jeffrey Lipinsky
Ernie McCray



We need your help to shape the course of this play and our future world.
Nov 12-15, 2015
Thurs at 7pm, Fri & Sat at 8pm, Sun at 2pm

The website has launched for the workshop production of Todd Blakesley's Venture Galactic. We need your vision for governing an ideal world on our new planet home.

Go to: www.venturegalactic.com and click on "Ideal World" to answer a brief survey. In return you'll receive a special promotional code that will let you purchase up to two half price flight tickets on Venture Galactic's next space cruise!

Venture Galactic, produced in collaboration with Playwrights Project, is funded by a Creative Catalyst grant made possible by the Ariel W. Coggeshall Fund of The San Diego Foundation Malin Burnham Center for Civic Engagement.


© Jim / Dollar Photo Club
We receive major support from an anonymous foundation, the James Irvine Foundation, Qualcomm Foundation, San Diego Commission for Arts & Culture, Sidney E. Frank Foundation, Mandell Weiss Charitable Trust, the Parker Foundation, and the California Arts Council (Arts in Corrections initiative administered by The William James Association).

We are honored to be a beneficiary of the Sheila and Jeffrey Lipinsky Family Fund, sponsors of our annual Plays by Young Writers festival.

We are grateful to the following supporters for grants recently received: Current Wisdom Foundation, the City of Encinitas and Mizel Family Foundation Community Grant Program, the Samuel I. and John Henry Fox Foundation, the Arthur and Jeanette Pratt Memorial Fund, ResMed Foundation, San Diego County Community Enhancement Program (District 4, Ron Roberts and District 3, Dave Roberts).

All of these generous contributors make our programs possible. Thank You!
Help us provide programs that transform lives.
Playwrights Project is a nonprofit organization that relies on contributed income.
Please give generously in whatever form you like. (Tax ID 33-0394250).
Online via PayPal
(no account necessary)
Mail a Check
Playwrights Project
3675 Ruffin Road, Suite 330
San Diego, CA 92123
Call
(858) 384-2970

Playwrights Project advances literacy, creativity and communication by empowering individuals to voice their stories through playwriting programs and theatre productions.

www.playwrightsproject.org
(858) 384-2970

Tax ID #33-0394250