Community Performances
Telling Stories: Students in Transition
Sisters in the System
Written by Tori Rice
Directed by Peter Cirino
Public Performances
Wednesday, March 25 & Friday March 27 at 7:30pm
Tickets: Free, Reservation Required
RSVP to write@playwrightsproject.org or (858) 384-2970
VIP Performance
Thursday, March 26 (by invite only; space is limited this evening)
Reception at 6:30pm; Performance at 7:30pm
Where
San Diego State University Experimental Theatre
5500 Campanile Drive, San Diego, CA 92182
Immerse yourself in theatre along with two girls navigating juvenile court. The complexity, confusion, and conflicts are almost comical.
Student actors from SDSU's School of Theatre, Television, and Film, and SDSU's Guardian Scholars work alongside faculty and local theatre professionals to present a performance of an experimental new play developed in Playwrights Project's Telling Stories program.
Playwrights Project holds community performances throughout the year. Please continue to check this page, or sign up for our Mailing List to receive updates about upcoming productions.
Plays by Young Writers, our annual festival of plays by winners of the California Young Playwrights Contest, features full professional productions at a renowned theatre in San Diego. The festival entertains viewers of all ages and provides an intensive learning experience for the young writers as they work alongside experienced artists and technicians. Student matinees give hundreds of young people their first chance to "go to the theatre," where they often meet characters grappling with conflicts much like their own, in plays praised by local critics. Nationally known dramatists whose first plays were staged in the festival include Karen Hartman, Jim Knable, Josefina López and Annie Weisman.
We are currently accepting scripts for the 31st annual California Young Playwrights Contest (deadline June 1, 2015).
Info about the 2016 Plays by Young Writers will be posted in Fall.
(More about the Jan-Feb 2015 Plays by Young Writers Festival)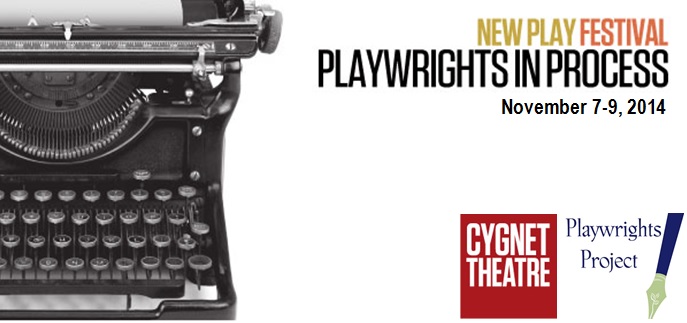 Festival Sponsored by Bill & Judy Garrett
As part of our Play by Play programs for adult playwrights, we have partnered with Cygnet Theatre to produce its third annual Playwrights in Process: New Play Festival. Four playwrights were slected from 163 submissions.
The festival introduces San Diego playgoers to new works and offers a series of workshops designed to introduce curious audiences to the art of new play development. Facilitated talk-balks with the playwright follows each of the readings.