Playwrights Project gratefully acknowledges the following contributions:
Foundation and Corporate Gifts
Amazon Smile Foundation
Anonymous
Aztec Leasing Inc.
Balboa Park Kiwanis Foundation
Community Service Association, San Diego Unified School District
Current Wisdom Foundation
Michael Ehrenfeld Insurance Company
The Samuel I. & John Henry Fox Foundation
Sidney E. Frank Foundation
The Gold Diggers
The James Irvine Foundation
Ken Jacques Photography
Kinder Morgan
Kiwanis Club of La Jolla
Kiwanis Club of Old San Diego
Koko Beach Restaurant
The Sheila & Jeffrey Lipinsky Family Fund
Macy's
Mandell Weiss Charitable Trust
Mira Mesa Self Storage
Nordson Corporation Foundation
The Arthur & Jeanette Pratt Memorial Fund
Allison & Robert Price Family Foundation Fund of the Jewish Community Foundation
Qualcomm® Incorporated
Qualcomm Matching Gift Program
Reminisce Photography
ResMed Foundation
Dr. Seuss Foundation
The San Diego Foundation's Creative Catalyst Program
Sempra Energy Foundation
The William & Ruth Tippett Foundation
Torrey Pines Bank
Patricia & Christopher Weil Family Foundation
Gary & Mary West Foundation
Government Grants
California Arts Council
California Department of Corrections and Rehabilitation
City of Carlsbad's Cultural Arts Office
City of Encinitas & the Mizel Family Foundation Community Grant Program
City of San Diego Commission for Arts & Culture
San Diego County District Attorney's Crime Prevention Program
San Diego County Community Enhancement Program
National Endowment for the Arts

Founders Circle of the Deborah Salzer Arts Education Fund
Anonymous (2)
Joyce Axelrod
Lisa and Kirt Bonebrake
Michael J. Davis
Gwyn Enright
Favrot Fund
Bobbie and Jon Gilbert
Vicki Hamilton and David Carr
Lisa and Steven Kradjian
Law Office of Karen M. Ladner
The Jeffrey and Sheila Lipinsky Family Foundation
Susan and Ron Styn
Renee and Charles Taubman
Dramaturg Level ~ Individual Gifts of $1,000+
Anonymous
Molly & Chuck Brazell
H. Patricia Don Vito
Jenny Finkelstein
Vicki Hamilton & David Carr
Judy and Bill Garrett
Mrs. Audrey Geisel
Mary Harrison
Ingrid & Jerry Hoffmeister
Ann Hornby, MD
Holly Smith Jones
Lisa & Steve Kradjian
Karen Ladner & Todd Stone
Sheila & Jeffrey Lipinsky
Steve & Caroline Lipinsky
Brad & Susanne Livingston
Annie Weisman Macomber & Bill Macomber
Sarah Price-Keating
Teofla Rich
Vanoli Chander & Vaishnav Srinivas
Joe & Elyse Stone
Susan & Ron Styn
Gene Summ
Steve Teixeira

Designer Level ~ Individual Gifts of $500+
Lynne Bath & Tom Freeley
Mary Baum
Jennifer & Frank Biddle
Ellen Cherin
Ishita & Pranav Dayal
Claudia & Michael Ehrenfeld
The Ecke Family
Kathy & Lee Krevat
Kathlyn Mead
Susie Nancarrow
Annette & Peter Neville
Linda Rose
Julie & Jay Sarno
Maureen Steiner
Karen Weiss
Latanya West
Actor Level ~ Individual Gifts of $100+
Anonymous
Janice Alper (Jewish Community Foundation Fund)
Joyce Axelrod (Jewish Community Foundation Fund)
Beverly & Phil Bennett
Hiam & David Baum
Les Birdsall
Jamie Smith Carr
Linda Castro & Jeff Hatfield
Rebecca Cerince
Michelle Conde
Norma & Bill Davila
Demetrice Davis
Lizbeth Ecke
Catherine & Brian Eischen
Elsa Feher
Stefan & Marianne Generales
Norman & Patricia Gillespie
Michel Glouchevitch & Karen Janda
Georgia Gomez-Ibanez, in honor of Deborah Salzer
June Gottleib
Margaret Hamilton
Karen Hartman
Ursula Kantor
Sally Katz & R. Scott Houts
Martin Kevorkian
Lani Kording
Cecelia Kouma & Jeff King
Melissa Ladner
Judy Leff
Anna C. Lewis & Josh Slater
Judy Price Lewis and Marshall Lewis
Anni Lipper
Don Loper
Richard & Elizabeth Macgurn
Mary & Alfred Manaster
Anna McColl
Ernie McCray
Naomi & Kevin McLean, in honor of Deborah Salzer
Joan Nelson
Sheryl North
Doris & Bob Reed
Elaine & Mark Regan
Linda & Stuart Robinson
Patricia Rose
Jodyne Roseman
Kathryn Russum
Deborah & Beeb Salzer
Eileen Samuels, in memory of Mollie Samuels
Barbara Wolff Searle
Stanley Silverman
Kathleen Snyder, in honor of Laurel Withers
Dianne Sparks
Sylvia Tiersten
Richard & Beth Twogood
Sharon & John Western
Lynne Wheeler
Suzanne & Kurt Whitman
Martin Willans, in honor of Board Member Mary Harrison
Judith Wunsch
Julie & Dale Yahnke
Maria & Randy Zack
Playwrights Circle ~ Individual Gifts under $100
Anonymous
Ann Briggs Addo
Kate Bower
Avalee Cohen, in honor of Savannah Sincoff
Kimberly A. Dawson
Carol & Robert Delillo
Rick & Linda Dunn, in honor of Deborah and Miriam Salzer
Shirley Fishman
Merryl Goldberg
Anne Grosstete
Lynn & Mark Hofflund
Phyllis House-Cepeda
Lynne Jennings
Kristen Johnson
Dee & George Kirazian
Jim & Rosemary Knable
Glenn Lambert & Martha Cronin
Sylvia Levinson
Hannah Logan
Drs. Talma & Ezra Maguen
Lori Maloney
Keith Mautner
James Monroe
Marilyn & Arthur Neumann
Ron & Rosemary Santoni
Linnea Searle
Floyd Siegal
Gwen H. Small
Stephanie Steiner
Arshagouhi Tavitian

Grants Corner
Playwrights Project thanks our donors for their support. We are pleased to announce these recent grants:
Qualcomm Foundation supports our in-school playwriting programs for at risk youth, including programs in low income neighborhoods, Juvenile Court and Community Schools, juvenile hall and pregnant minors programs.

The James Irvine Foundation for its generosity and vision. The multi-year grant, awarded in 2013, continues to support new play development with the following adult populations:
Adults who experienced foster care (Telling Stories)
Mexican-American immigrants (Border Lines)
Active military and veterans (About Face)
Incarcerated and former inmates (Out of the Yard)

The Sidney E. Frank Foundation awarded Playwrights Project grants in support of our Write On! standards-based playwriting program conducted in schools throughout San Diego County.
The Tippett Foundation awarded Playwrights Project a grant in support of our education programs for youth.
Mandell Weiss Charitable Trust, a local leader in philanthropy for the arts, has again provided underwriting for Plays by Young Writers, which was produced at The Old Globe in Balboa Park.
Support from state and local agencies has a large impact on our programming:
National Endowment for the Arts: An Arts Education: Art Works grant is supporting playwriting residencies for underserved populations in San Diego schools, including programs for students in juvenile court schools, pregnant minors, homeless teens and English language learners. Matching funds are required. Your support is welcome.
The San Diego Commission for Arts and Culture continues to provide the most critical support to the arts community by providing general operating support.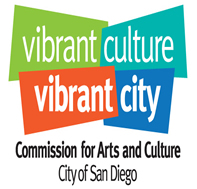 The California Arts Council, through its Artists in Schools program, awarded us a matching grant, supporting playwriting residencies at Creative, Performing and Media Arts Middle School this year. We also received funding through the new JUMP StArts program, which supports quality arts education and artists-in-residence programs for at-risk youth within the juvenile justice system. The CAC is primarily supported by the sale of Arts License Plates. Do you have one on your car?
Additionally, in partnership with the California Department of Corrections and Rehabilitation, the California Arts Council has contracted with several organizations throughout the state to provide rehabilitative arts services in state correctional facilities. Playwrights Project is partnering with one of those organizations, William James Association, to provide playwriting to inmates at Richard J. Donovan Correctional Facility and the California State Prison, Centinela.