Imagine That!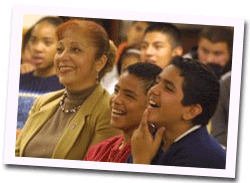 Creative drama activities promoting literacy and communication skills
Grade Levels
3-12
Program Components
4-8 classroom sessions
Options
Actors participate in one or more sessions
Informal culminating performance
About the IMAGINE THAT! Residency
This creative drama residency is structured to help students see, feel, react to and interpret their everyday world in imaginative new ways. Language and analysis skills are developed and refined through theatre games, improvisations, stories, movement, and writing activities (for older groups). These lively sessions also lead into writing skills such as sequencing, developing characters, inventing dialogue, and using details. Activities may be linked thematically to curriculum and adapted for varying levels of English proficiency. Multiple sessions may culminate in an ensemble performance.
IMAGINE THAT! Goals
Strengthening concentration, listening and critical thinking skills
Using the senses to gather information about the world
Stretching the imagination
Using the body and spoken language to communicate feelings, observations, and ideas
Developing empathy