Programs Serve: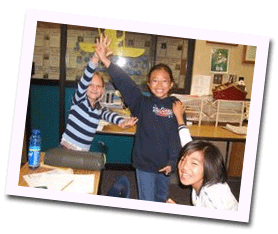 SCHOOL GROUPS AND TEACHERS


Imagine That Creative Drama, grades 3-12
Write On! Playwriting, grades 4-12
Professional Development for Teachers

We teach playwriting and theatre in grades 3-12, during and after school throughout San Diego County. Theatre professionals use a dynamic, interactive curriculum designed to support standards in English and Theatre. Lessons can be adapted to support other content areas. Programs often culminate with professional actors performing students' scripts. Learners at all levels enjoy success. Safe behind the mask of fiction, young people explore actions and their consequences. Empathy and compassion are fostered as students gain confidence, non-violent techniques for solving problems, essential language skills, and knowledge of theatre. Programs include: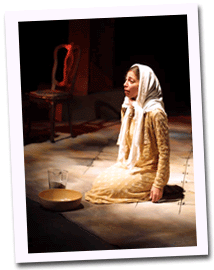 STUDENT PLAYWRIGHTS
The California Young Playwrights Contest is open to Californians under age 19. Every year young playwrights submit original scripts to the contest. Every writer who requests feedback receives an individualized script critique. Selected writers win script readings or full professional productions in Plays by Young Writers. Distinguished artists from major theatres select festival scripts and write comments to the playwrights. With support from a dramaturg, each winning writer strengthens his or her script and participates in every step of the production process.
THEATRE GOERS AND SCHOOL GROUPS
Plays by Young Writers, our annual festival of plays by contest winners, features full professional productions at a renowned theatre in San Diego (The Old Globe, San Diego Rep's Lyceum Theatre, and Old Town Theatre). The festival entertains viewers of all ages. The festival provides an intensive learning experience for the young writers as they work alongside experienced artists and technicians. Student matinees give hundreds of young people their first chance to "go to the theatre," where they often meet characters grappling with conflicts much like their own, in plays praised by local critics. Nationally known dramatists whose first plays were staged in the festival include Karen Hartman, Jim Knable, Josefina López and Annie Weisman.

Playwrights Project's community programs create new plays with groups that do not typically attend theatre. The plays are presented to these groups to reflect on shared experiences, better understand differences and to spark a love of live theatre. The program is made possible by the James Irvine Foundation. Participants can take part in several ways. No previous writing experience is required.
Write your own short one act play during a group workshop series led by a trained teaching artist who guides the process. At the end of the program, see your play performed as a reading by professional actors.
In one-on-one story collections, a playwright creates a short script (8-10 minutes) based on interviews with the community member. Professional actors perform the plays as staged readings.
Attend performances of plays created in the program, and take part in an interactive discussion with the writers, actors and audience.
View a scene online and post your comment to contribute ideas for the development of a new play. (Coming Soon)
COMMUNITIES SERVED
PROGRAMS FOR ADULT PLAYWRIGHTS
Playwrights Project aspires to support adult playwrights in the development of new plays through its Play by Play program, which is a dramaturgical process designed to further the development of new plays and strengthen the skills of adult playwrights. The program offers playwrights the opportunity to hear their plays read by actors, engage in discussion with an audience, and work one-on-one with a theatre expert to further develop their script. The program culminates in a community reading of the revised scripts.

WordPlay Tuesday - After a successful two-year collaboration with Playwrights Project, Diversionary Theatre is pleased to announce a new community partnership with San Diego Playwrights for WordPlay Tuesday. San Diego Playwrights is an all-volunteer network of playwrights working on joint projects to get local writers produced on San Diego stages. Visit the Diversionary Theatre website for more information about WordPlay Tuesday.


Playwrights in Process: New Play Festival, is Cygnet Theatre's new play festival, produced in partnership with Playwrights Project, each fall. The Festival is three days of audience-focused workshops, readings, and post-show discussions. As part of Playwrights in Process, chosen playwrights will be afforded an exciting opportunity to work with a dramaturg/director in a three-step development process from selection confirmation through the festival itself. Steps one and two consist of private table readings with professional actors provided by Cygnet Theatre. After each, the playwright works with her/his mentor to further develop the play. The final step is a rehearsed, staged-reading of the final draft in front of a discerning theatre audience. Through a facilitated post-show discussion, the audiences provides the writer feedback to help playwrights further develop their plays with the ultimate goal of helping to prepare the works for future productions.




Offering our students the opportunity to research, write, and stage their own play has been the most valuable learning experience I've seen in 14 years of teaching.
-Junior High School Teacher



The best educational experience my daughter had in her high school years.
~Parent of a Student Participant in a Playwriting Residency



A model program for schools...
One of our star projects."
~California Arts Council



I believe in the power your project has to motivate reluctant learners... Playwrights Project helped my students to discover the power within them to move others through their writing...We need the kind of enthusiasm and good teaching you provide...a structure in which our young people can imagine and create.
-Continuing Education Teacher, Garfield High School

I learned that I'm a strong minded young lady, and even through hard times I've been successful. I also learned how little things people have done have helped me keep going and not giving up when everything is bad.
~ Young woman recently emancipated from the foster care system



I enjoyed the instructor's commitment and joy in giving the course, the comfort and rapport amoung all participants, the diversity and richness of the group. This has been a vastly rewarding experience.
~Senior Lifestages Participant